The Southeastern Massachusetts Motorcyclists' Survivors Fund
Moose Shoot 2018-2019: Darts, Pool, Pistol-Crossbow Competition

Sponsored and hosted by Check Twice Signs: Check Twice – Save a Life on the 2nd Saturday of every month from November 2018 – April 2019 at The Braintree Moose Lodge #413 in Braintree, MA (175 Howard Street).
UPCOMING MOOSE SHOOTS (1:00pm start/registration, last registration at 2:30pm)
March 9th, 2019
April 13th, 2019
Join The Southeastern Massachusetts Motorcyclists' Survivors Fund and Check Twice Signs on the 1st Saturday of every month from November 2018 – April 2019 for the 2018-2019 Moose Shoot: Darts, Pool, Pistol-Crossbow Competition
Teams of four compete (both as a team, and individually) for trophies, medals and Top Shots! Join a team, or cheer everyone on! Coming solo or in a smaller group? We'll match you up and build a team! Enjoy food, fun, camaraderie and competition!
Reserve your tickets now! Pay securely online with PayPal (using any credit or debit card).
$20/person – Shooter Ticket (includes food, team and individual prizes)
$10/person – Cheerleader Ticket (includes food)
Click "Add to Cart" below, then specify quantity on the next page.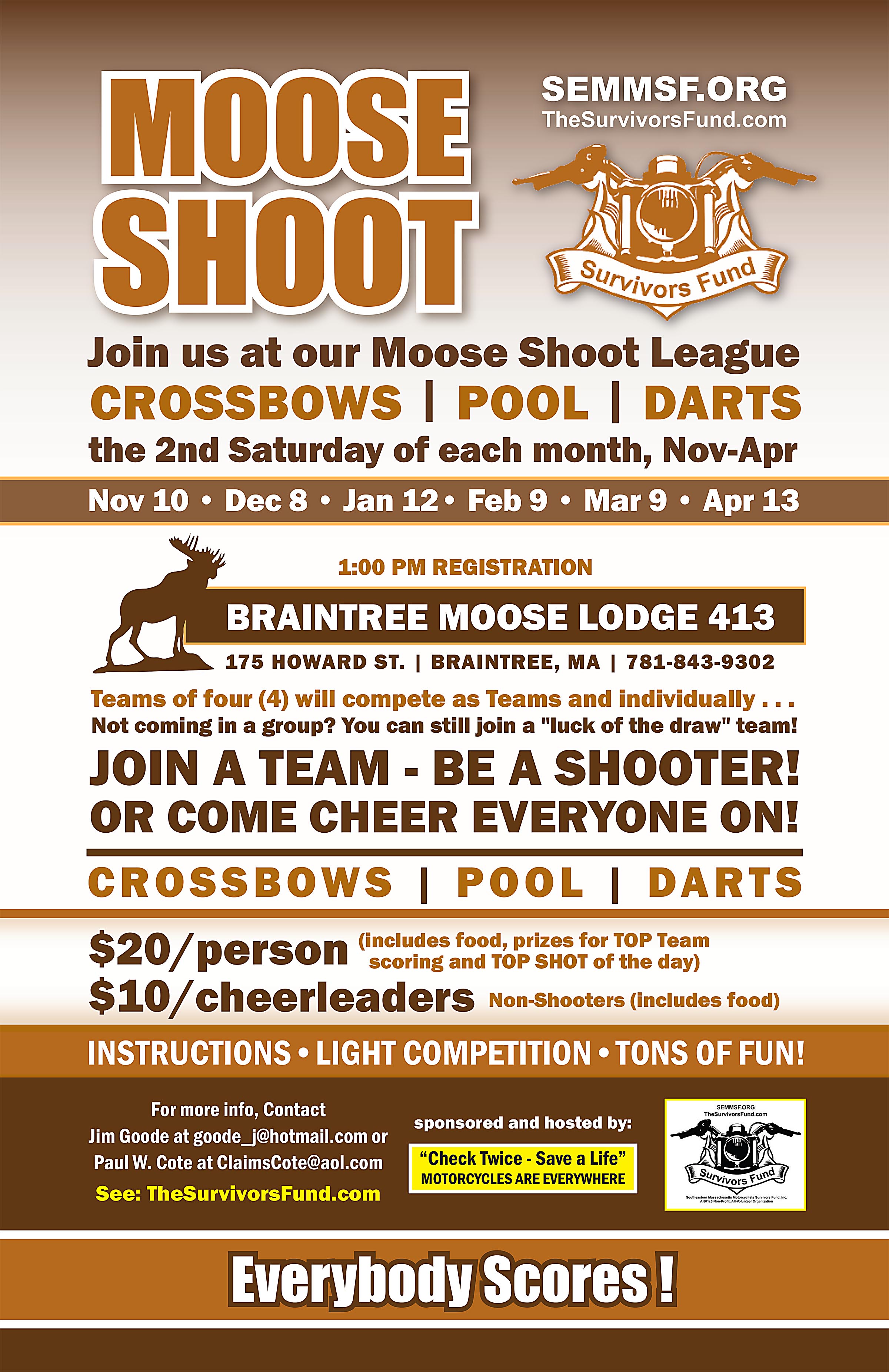 Motorcycle Safety Awareness Pancake Breakfast
Sunday, March 24th, 2019
Whitman VFW Post 697 (95 Essex Street, Whitman, MA)
9AM – Noon
Please join the Garner & Mello families in kicking off the 2019 Motorcycle Safety Awareness Period (March 24 – April 30). Reunite with old friends & meet new ones. Hosted by The South Shore Youth Foundation and The Southeastern Mass Motorcyclist's Survivors Fund. Governor's Proclamation and presentation around 10:00 am. Take home a Check Twice – Save a Life sign. Breakfast includes all you can eat pancakes, scrambled eggs, sausage, bacon, homefries, egg sandwiches, juice & coffee for just a $6 donation. We hope to see you there!